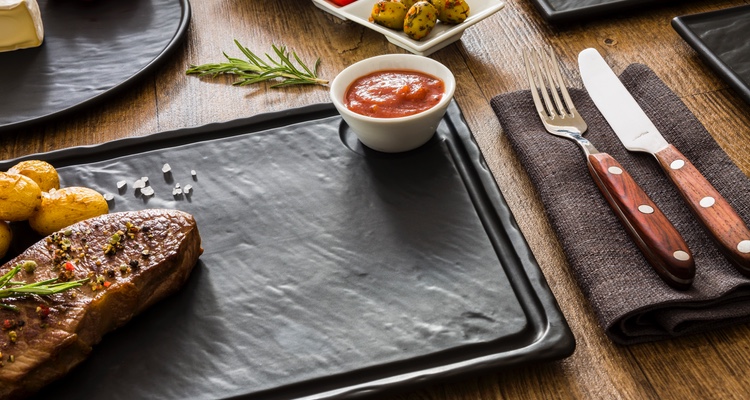 State-of-the-art hosts are always looking for innovations, new materials and special shapes for serving their dishes. Currently natural stones like slate and basalt are the latest trend in presenting and serving all kind of dishes in a unique way.

But plates made of natural stone are not hygienic, extremely heavy weight and hard to handle. Because of this Holst Porzellan/Germany connected the features of porcelain with the design of plates made of slate. The result is porcelain in slate design, which guarantees the following advanteges compared to natural stone plates:

- 100% dishwasher safe
- 100% microwave safe
- 100% HoReCa professionalism
- hygienic stability
- good stackability
- lower weight

The main unique characteristic of porcelain in slate design by Holst Porzellan/Germany is the mat black glaze. With the plates 26 x 26 cm and 26 x 12 cm you are able to create numerous variations like a chessboard at the buffet or at front cookings for example. One more main advantage of porcelain compared to natural stone is the thermal stability, no matter if hot dishes shall sty hot or cold ones cold. Porcelain in slate design is made for the professional use in hotels, restaurants and catering.
---