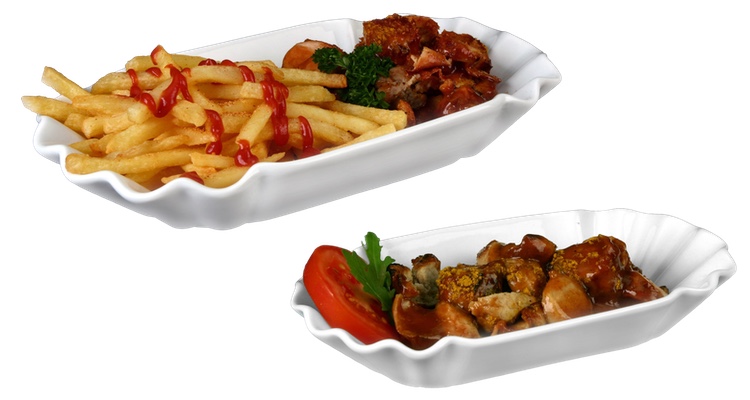 On this page we show you special items that deserve a special mention. Ideal for all football events (World Cup, European Championship, National leagues) we have developed a serving plate in football field design. These are suitable for serving finger food and snacks during public viewing.

For the younger guests the dessert is the highlight of the meal. With two or three balls of ice cream, children's eyes sparkle. The clown decor brings additional fun and underlines the often-colorful children's ice cream variations.

Children specifically want to come back to where they are treated so appealing and child friendly. The mouse plate ensures with a high memory and recognition value that you convince your little guests. This plate is the basic element to turn even a simple fries an independent dish with an unique position.

[CR]The Currywurst is a German dish made from bratwurst, which is served whole cut with a tomato sauce and curry powder. It was invented in a small snack bar in Berlin in 1949. Since the invention the consume increase to more than 800 million times each year in Germany. We took this opportunity to develop a porcelain bowl, which is modeled on the look of a typical snack currywurst-bowl made of paper.
With the Currywurst-bowl in 25 cm it is possible to serve the Currywurst together with French Fries.
---