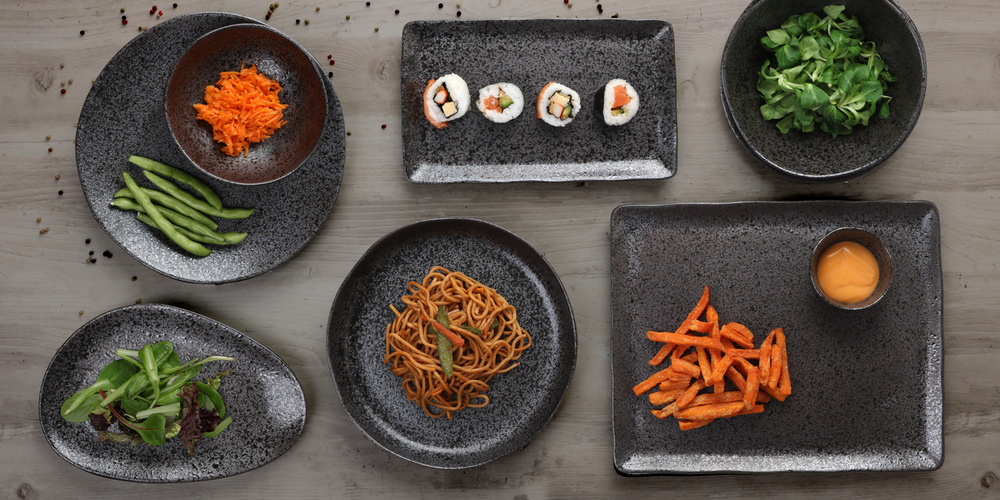 Carbon is the eponym for the black and gray design line of the collection Reactive Trend in high fired porcelain. After the first biscuit firing, the porcelain is dipped in a carbon-colored basic glaze and fired again. In a further process, black Metallica pigments are applied and fired the third time. Although this process is more expensive compared to common stoneware, it ultimately ensures the unique design of the gray carbon style and the suitability for commercial use of hard porcelain.

Similar to mother pearl, the reactive tableware shines, reflects and glitters from different perspectives, sometimes black, silver, gray or even subtly greenish. The slightly raised dots suggest the gray dishes different depths, like a hologram. The reactive tableware of the Carbon series is a dark, exciting glaze, where no item is like the other.

We do not realize this reactive glaze on standard shapes and the irregular style of Carbon communicates a language of natural and urban design. Away from robots and unified industrial porcelain, towards a handcrafted production with high manufacturing competence. Each piece of tableware in the gray-black Carbon series is unique. This underlines the natural feeling and taste of this type of design and suggests the reactive tableware a high degree of independence.